Snubber Capacitors Used for IGBT(Lead wire)
Look at PDF:CXA 引线 IGBT用突波缓冲吸收电容器.pdf
● Outline Drawing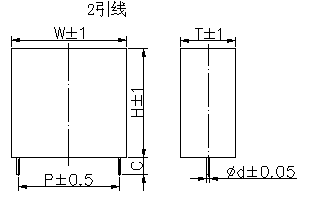 Applications
Used in applications of snubber protection of various IGBT.
Description of Products
Reference standard: BG/T 17702 idt IEC 61071,
GB/T 2693 idt IEC 60384-1.
Double sided metallized polar plate, polypropylene dielectric, non-inductive winding.
Low ESR and high dv/dt.
Withstanding very high peak to peak value of current Ipp and high frequency effective value of current Irms.
Can supply series products meeting all kinds of IGBT.
Technology Features
To adopt double sided metallized film electrode to enhance property of dv/dt .
To offer module devices with in-built quick recovery transistor.
●Specifications
Reference Standard

IEC 61071

Climatic Category

40/85/56

Operating Temperature Range (case)


-40~85℃

Un Rated Voltage Un

630Vdc~3000Vdc

Capacitance Range

0.47μF~9μF

Capacitance Tolerance ΔC/C

J:±5% K:±10% M:±20%

Voltage Proof Between Terminals UTT

1.5Un ( 60s )

Dissipation Factor

≤0.0005(1kHz,20℃)

Insulation Resistance

≥100000MΩ, CN≤0.33μF

(20℃,100Vdc,1min)

≥30000S,CN>0.33μF
Part number system
●The 16 digits part number is formed as follow:
| | | | | | | | | | | | | | | | |
| --- | --- | --- | --- | --- | --- | --- | --- | --- | --- | --- | --- | --- | --- | --- | --- |
| 1 | 2 | 3 | 4 | 5 | 6 | 7 | 8 | 9 | 10 | 11 | 12 | 13 | 14 | 15 | 16 |
| C | X | A | | | | | | | | | | | | | |
Digit 1 to 3 Series code
CXA
Digit 4 to 6 Rated voltage
163=101×63V=630V
Digit 7 AC/DC
A=AC D=DC
Digit 8 to 10 Rated capacitance value
310=103×10pF=0.01μF
Digit 11 Capacitance tolerance
H=3%,J=±5%,K=±10%,M=±20%
Digit 12 Main code
0: 2tow pins
1: 4four pins
Digit 13 to 16 Internal use
Internal use
Digit 13

Digit 14

Digit 15

Digit 16

Code


Explanation


Code


Explanation


Code


Explanation


Code


Explanation


D

P=32.5mm

0

None

0




Standard lead length 5.5mm

0

±1.0mm

Length tolerance±1.0mm

F

P=37.5mm

A

b=5.1mm

M

P=52.5mm

B

b=10.2mm






C

b=12.7mm






D

b=20.3mm
Technical data (mm)

630Vdc/700Vdc(420Vac)

CN
μF

W±1.0

H±1.0

T±1.0

(mm)

d
±0.05

dv/dt
V/μs

I
(A)

ESR
@100kHz
(mΩ)

Imax
100kHz @70℃(A)

LS
(nH)

Part number

P
±0.5

b
±0.5

0.68

37

25

15

32.5

/

1.2

900

612

6.0

11

23

CXA170D468*0D0**

0.68

37

25

15

32.5

5.1

1.0

900

612

5.0

13

23

CXA170D468*1DA**

1.0

37

30

16

32.5

/

1.2

900

900

6.0

12

23

CXA170D510*0D0**

1.0

37

30

16

32.5

5.1

1.0

900

900

5.0

14

23

CXA170D510*1DA**

1.2

37

30

16

32.5

/

1.2

900

1080

5.5

14

23

CXA170D512*0D0**

1.2

37

30

16

32.5

5.1

1.0

900

1080

4.5

16

23

CXA170D512*1DA**

1.5

37

34

20

32.5

/

1.2

900

1350

5.5

14

23

CXA170D515*0D0**

1.5

37

34

20

32.5

10.2

1.0

900

1350

4.5

17

23

CXA170D515*1DB**

1.8

37

34

20

32.5

/

1.2

900

1620

5.5

14

23

CXA170D518*0D0**

1.8

37

34

20

32.5

10.2

1.0

900

1620

4.5

18

23

CXA170D518*1DB**

2.0

42

40

20

37.5

/

1.2

600

1200

5.0

14

29

CXA170D520*0F0**

2.0

42

40

20

37.5

10.2

1.2

600

1200

4.0

18

29

CXA170D520*1FB**

2.2

42

40

20

37.5

/

1.2

600

1320

5.0

14

29

CXA170D522*0F0**

2.2

42

40

20

37.5

10.2

1.2

600

1320

4.0

18.5

29

CXA170D522*1FB**

2.5

42

40

20

37.5

/

1.2

600

1500

5.0

14

29

CXA170D525*0F0**

2.5

42

40

20

37.5

10.2

1.2

600

1500

4.0

19

29

CXA170D525*1FB**

3.0

42

44

24

37.5

/

1.2

600

1800

5.0

14

29

CXA170D530*0F0**

3.0

42

44

24

37.5

12.7

1.2

600

1800

4.0

20

29

CXA170D530*1FC**

3.3

42

44

24

37.5

/

1.2

600

1980

4.5

14

29

CXA170D533*0F0**

3.3

42

44

24

37.5

12.7

1.2

600

1980

3.5

20

29

CXA170D533*1FC**

4.0

42

44

24

37.5

/

1.2

600

2400

4.5

14

29

CXA170D540*0F0**

4.0

42

44

24

37.5

12.7

1.2

600

2400

3.5

21

29

CXA170D540*1FC**

4.7

42

45

30

37.5

20.3

1.2

600

2820

3.5

23

29

CXA170D547*1FD**

5.0

42

45

30

37.5

20.3

1.2

600

3000

3.0

23.5

29

CXA170D550*1FD**

6.0

42

43

42

37.5

20.3

1.2

600

3600

3.0

25

29

CXA170D560*1FD**

6.5

42

43

42

37.5

20.3

1.2

600

3900

3.0

26

29

CXA170D565*1FD**

6.5

57

45

30

52.5

20.3

1.2

360

2340

2.5

24

33

CXA170D565*1MD**

7.0

57

45

30

52.5

20.3

1.2

360

2520

2.5

25

33

CXA170D570*1MD**

8.0

57

50

35

52.5

20.3

1.2

360

2880

2.5

27

33

CXA170D580*1MD**

9.0

57

50

35

52.5

20.3

1.2

360

3240

2.5

28

33

CXA170D590*1MD**




























850Vdc(420Vac)

CN
μF

W±1.0

H±1.0

T±1.0

(mm)

d
±0.05

dv/dt
V/μs

I
(A)

ESR
@100kHz
(mΩ)

Imax
100kHz@70℃
(A)

LS
(nH)

Part number

P
±0.5

b
±0.5

0.47

37

25

15

32.5

/

1.2

1200

564

6.0

13

23

CXA190D447*0D0**

0.47

37

25

15

32.5

5.1

1.0

1200

564

5.0

15

23

CXA190D447*1DA**

0.68

37

30

16

32.5

/

1.2

1200

816

6.0

14

23

CXA190D468*0D0**

0.68

37

30

16

32.5

5.1

1.0

1200

816

5.0

16

23

CXA190D468*1DA**

1.0

37

34

20

32.5

/

1.2

1200

1200

6.0

14

23

CXA190D510*0D0**

1.0

37

34

20

32.5

10.2

1.0

1200

1200

5.0

17

23

CXA190D510*1DB**

1.2

37

34

20

32.5

/

1.2

1200

1440

6.0

14

23

CXA190D512*0D0**

1.2

37

34

20

32.5

10.2

1.0

1200

1440

5.0

17.5

23

CXA190D512*1DB**

1.5

37

34

20

32.5

/

1.2

1200

1800

6.0

14

23

CXA190D515*0D0**

1.5

37

34

20

32.5

10.2

1.0

1200

1800

5.0

18

23

CXA190D515*1DB**

1.5

42

40

20

37.5

/

1.2

750

1125

5.5

14

29

CXA190D515*0F0**

1.5

42

40

20

37.5

10.2

1.2

750

1125

4.5

18.5

29

CXA190D515*1FB**

2.0

42

40

20

37.5

/

1.2

750

1500

5.5

14

29

CXA190D520*0F0**

2.0

42

40

20

37.5

10.2

1.2

750

1500

4.5

19

29

CXA190D520*1FB**

2.2

42

40

20

37.5

/

1.2

750

1650

5.5

14

29

CXA190D522*0F0**

2.2

42

40

20

37.5

10.2

1.2

750

1650

4.5

19.5

29

CXA190D522*1FB**

2.5

42

44

24

37.5

/

1.2

750

1875

5.5

14

29

CXA190D525*0F0**

2.5

42

44

24

37.5

12.7

1.2

750

1875

4.5

20

29

CXA190D525*1FC**

3.0

42

44

24

37.5

/

1.2

750

2250

5.5

14

29

CXA190D530*0F0**

3.0

42

44

24

37.5

12.7

1.2

750

2250

4.5

21

29

CXA190D530*1FC**

3.3

42

45

30

37.5

20.3

1.2

750

2475

4.5

21.5

29

CXA190D533*1FD**

4.0

42

43

42

37.5

20.3

1.2

750

3000

4.5

22

29

CXA190D540*1FD**

4.0

57

45

30

52.5

20.3

1.2

450

1800

4.0

23

33

CXA190D540*1MD**

4.7

57

45

30

52.5

20.3

1.2

450

2115

4.0

24.5

33

CXA190D547*1MD**

5.0

57

45

30

52.5

20.3

1.2

450

2250

4.0

25

33

CXA190D550*1MD**

6.0

57

50

35

52.5

20.3

1.2

450

2700

4.0

26

33

CXA190D560*1MD**

6.5

57

50

35

52.5

20.3

1.2

450

2925

4.0

27

33

CXA190D565*1MD**






















































1000Vdc(500Vac)

CN
μF

W±1.0

H±1.0

T±1.0

(mm)

d
±0.05

dv/dt
V/μs

I
(A)

ESR
@100kHz
(mΩ)

Imax
100kHz@70℃
(A)

LS
(nH)

Part number

P
±0.5

b
±0.5

0.47

37

25

15

32.5

/

1.2

1300

611

6.0

12

23

CXA210D447*0D0**

0.47

37

25

15

32.5

5.1

1.0

1300

611

5.0

14

23

CXA210D447*1DA**

0.68

37

30

16

32.5

/

1.2

1300

884

6.0

13

23

CXA210D468*0D0**

0.68

37

30

16

32.5

5.1

1.0

1300

884

5.0

15

23

CXA210D468*1DA**

0.82

37

30

16

32.5

/

1.2

1300

1066

6.0

14

23

CXA210D482*0D0**

0.82

37

30

16

32.5

5.1

1.0

1300

1066

5.0

16

23

CXA210D482*1DA**

1.0

37

34

20

32.5

/

1.2

1300

1300

5.5

14

23

CXA210D510*0D0**

1.0

37

34

20

32.5

10.2

1.0

1300

1300

4.5

17

23

CXA210D510*1DB**

1.2

37

34

20

32.5

/

1.2

1300

1560

5.5

14

23

CXA210D512*0D0**

1.2

37

34

20

32.5

10.2

1.0

1300

1560

4.5

17

23

CXA210D512*1DB**

1.2

42

40

20

37.5

/

1.2

850

1020

5.5

14

29

CXA210D512*0F0**

1.2

42

40

20

37.5

10.2

1.2

850

1020

4.5

16

29

CXA210D512*1FB**

1.5

42

40

20

37.5

/

1.2

850

1275

5.5

14

29

CXA210D515*0F0**

1.5

42

40

20

37.5

10.2

1.2

850

1275

4.5

16

29

CXA210D515*1FB**

2.0

42

44

24

37.5

/

1.2

850

1700

5.5

14

29

CXA210D520*0F0**

2.0

42

44

24

37.5

12.7

1.2

850

1700

4.5

17

29

CXA210D520*1FC**

2.2

42

44

24

37.5

/

1.2

850

1870

5.0

14

29

CXA210D522*0F0**

2.2

42

44

24

37.5

12.7

1.2

850

1870

4.0

20

29

CXA210D522*1FC**

2.5

42

45

30

37.5

20.3

1.2

850

2125

4.0

21

29

CXA210D525*1FD**

3.0

42

45

30

37.5

20.3

1.2

850

2550

4.0

21.5

29

CXA210D530*1FD**

3.3

42

43

42

37.5

20.3

1.2

850

2805

4.0

22

29

CXA210D533*1FD**

3.3

57

45

30

52.5

20.3

1.2

500

1650

4.0

20

33

CXA210D533*1MD**

4.0

57

45

30

52.5

20.3

1.2

500

2000

4.0

21

33

CXA210D540*1MD**

4.7

57

50

35

52.5

20.3

1.2

500

2350

4.0

22

33

CXA210D547*1MD**

5.0

57

50

35

52.5

20.3

1.2

500

2500

4.0

23

33

CXA210D550*1MD**






















































1200Vdc(600Vac)

CN
μF

W±1.0

H±1.0

T±1.0

(mm)

d
±0.05

dv/dt
V/μs

I
(A)

ESR
@100kHz
(mΩ)

Imax
100kHz@70℃
(A)

LS
(nH)

Part number

P
±0.5

b
±0.5

0.33

37

25

15

32.5

/

1.2

1500

495

6.5

11.5

23

CXA212D433*0D0**

0.33

37

25

15

32.5

5.1

1.0

1500

495

5.5

13.5

23

CXA212D433*1DA**

0.47

37

30

16

32.5

/

1.2

1500

705

6.5

12

23

CXA212D447*0D0**

0.47

37

30

16

32.5

5.1

1.0

1500

705

5.5

14

23

CXA212D447*1DA**

0.68

37

34

20

32.5

/

1.2

1500

1020

6.5

13

23

CXA212D468*0D0**

0.68

37

34

20

32.5

10.2

1.0

1500

1020

5.5

15

23

CXA212D468*1DB**

0.75

37

34

20

32.5

/

1.2

1500

1125

6.5

14

23

CXA212D475*0D0**

0.75

37

34

20

32.5

10.2

1.0

1500

1125

5.5

16

23

CXA212D475*1DB**

0.82

42

40

20

37.5

/

1.2

950

779

6.0

14

29

CXA212D482*0F0**

0.82

42

40

20

37.5

10.2

1.2

950

779

5.0

16

29

CXA212D482*1FB**

1.0

42

40

20

37.5

/

1.2

950

950

6.0

14

29

CXA212D510*0F0**

1.0

42

40

20

37.5

10.2

1.2

950

950

5.0

17

29

CXA212D510*1FB**

1.2

42

44

24

37.5

/

1.2

950

1140

5.5

14

29

CXA212D512*0F0**

1.2

42

44

24

37.5

12.7

1.2

950

1140

4.5

17

29

CXA212D512*1FC**

1.5

42

44

24

37.5

/

1.2

950

1425

5.5

14

29

CXA212D515*0F0**

1.5

42

44

24

37.5

12.7

1.2

950

1425

4.5

17.5

29

CXA212D515*1FC**

2.0

42

45

30

37.5

20.3

1.2

950

1900

4.5

18

29

CXA212D520*1FD**

2.2

42

43

42

37.5

20.3

1.2

950

2090

4.5

19

29

CXA212D522*1FD**

2.5

42

43

42

37.5

20.3

1.2

950

2375

4.5

20

29

CXA212D525*1FD**

2.2

57

45

30

52.5

20.3

1.2

600

1320

4.0

18

33

CXA212D522*1MD**

2.5

57

45

30

52.5

20.3

1.2

600

1500

4.0

19

33

CXA212D525*1MD**

3.0

57

45

30

52.5

20.3

1.2

600

1800

4.0

20

33

CXA212D530*1MD**

3.3

57

50

35

52.5

20.3

1.2

600

1980

4.0

21

33

CXA212D533*1MD**

4.0

57

50

35

52.5

20.3

1.2

600

2400

4.0

22

33

CXA212D540*1MD**




























1600Vdc(650Vac)

CN
μF

W±1.0

H±1.0

T±1.0

(mm)

d
±0.05

dv/dt
V/μs

I
(A)

ESR
@100kHz
(mΩ)

Imax
100kHz@70℃
(A)

LS
(nH)

Part number

P
±0.5

b
±0.5

0.22

37

25

15

32.5

/

1.2

1900

418

7.5

11

23

CXA216D422*0D0**

0.22

37

25

15

32.5

5.1

1.0

1900

418

6.5

13

23

CXA216D422*1DA**

0.33

37

30

16

32.5

/

1.2

1900

627

7.5

11.5

23

CXA216D433*0D0**

0.33

37

30

16

32.5

5.1

1.0

1900

627

6.5

13.5

23

CXA216D433*1DA**

0.39

37

34

20

32.5

/

1.2

1900

741

7.0

12

23

CXA216D439*0D0**

0.39

37

34

20

32.5

5.1

1.0

1900

741

6.0

14

23

CXA216D439*1DA**

0.47

37

34

20

32.5

/

1.2

1900

893

7.0

13

23

CXA216D447*0D0**

0.47

37

34

20

32.5

10.2

1.0

1900

893

6.0

15

23

CXA216D447*1DB**

0.68

42

40

20

37.5

/

1.2

1250

850

4.0

14

29

CXA216D468*0F0**

0.68

42

40

20

37.5

10.2

1.2

1250

850

4.0

16

29

CXA216D468*1FB**

0.82

42

44

24

37.5

/

1.2

1250

1025

4.0

14

29

CXA216D468*0F0**

0.82

42

44

24

37.5

12.7

1.2

1250

1025

4.0

17

29

CXA216D468*1FC**

1.0

42

45

30

37.5

20.3

1.2

1250

1250

4.0

17.5

29

CXA216D510*1FD**

1.2

42

45

30

37.5

20.3

1.2

1250

1500

4.0

18

29

CXA216D512*1FD**

1.5

42

43

42

37.5

20.3

1.2

1250

1875

4.0

19

29

CXA216D515*1FD**

1.5

57

45

30

52.5

20.3

1.2

750

1125

4.0

20

33

CXA216D515*1MD**

2.0

57

50

35

52.5

20.3

1.2

750

1500

4.0

22

33

CXA216D520*1MD**




























1700Vdc(675Vac)

CN
μF

W±1.0

H±1.0

T±1.0

(mm)

d
±0.05

dv/dt
V/μs

I
(A)

ESR
@100kHz
(mΩ)

Imax
100kHz@70℃
(A)

LS
(nH)

Part number

P
±0.5

b
±0.5

0.15

37

25

15

32.5

/

1.2

2000

300

8.5

10

23

CXA216D415*0D0**

0.15

37

25

15

32.5

5.1

1.0

2000

300

7.5

12

23

CXA216D415*1DA**

0.22

37

30

16

32.5

/

1.2

2000

440

7.5

11

23

CXA216D422*0D0**

0.22

37

30

16

32.5

5.1

1.0

2000

440

6.5

13

23

CXA216D422*1DA**

0.33

37

34

20

32.5

/

1.2

2000

660

7.0

11.5

23

CXA216D433*0D0**

0.33

37

34

20

32.5

10.2

1.0

2000

660

6.0

13.5

23

CXA216D433*1DB**

0.39

37

34

20

32.5

/

1.2

2000

780

7.0

12

23

CXA216D439*0D0**

0.39

37

34

20

32.5

10.2

1.0

2000

780

6.0

14

23

CXA216D439*1DB**

0.47

42

36

24

37.5

/

1.2

1260

592

6.0

12

29

CXA216D447*0F0**

0.47

42

36

24

37.5

12.7

1.2

1260

592

5.0

14

29

CXA216D447*1FC**

0.56

42

36

24

37.5

/

1.2

1260

706

6.0

13

29

CXA216D456*0F0**

0.56

42

36

24

37.5

12.7

1.2

1260

706

5.0

15

29

CXA216D456*1FC**

0.68

42

44

24

37.5

/

1.2

1260

857

6.0

14

29

CXA216D468*0F0**

0.68

42

44

24

37.5

12.7

1.2

1260

857

6.0

16

29

CXA216D468*1FC**

0.82

42

44

24

37.5

/

1.2

1260

1033

5.5

14

29

CXA216D482*0F0**

0.82

42

44

24

37.5

12.7

1.2

1260

1033

4.5

17

29

CXA216D482*1FC**

1.0

42

45

30

37.5

20.3

1.2

1260

1260

4.5

18

29

CXA216D510*1FD**

1.2

42

43

42

37.5

20.3

1.2

1260

1512

4.5

19

29

CXA216D512*1FD**

1.0

57

45

25

52.5

20.3

1.2

780

780

4.0

16

33

CXA216D510*1MD**

1.2

57

43.5

29.5

52.5

20.3

1.2

780

936

4.0

17

33

CXA216D512*1MD**

1.5

57

50

35

52.5

20.3

1.2

780

1170

4.0

20

33

CXA216D515*1MD**

2.0

57

50

35

52.5

20.3

1.2

780

1560

4.0

22

33

CXA216D520*1MD**




























2000Vdc(700Vac)

CN
μF

W±1.0

H±1.0

T±1.0

(mm)

d
±0.05

dv/dt
V/μs

I
(A)

ESR
@100kHz
(mΩ)

Imax
100kHz@70℃
(A)

LS
(nH)

Part number

P
±0.5

b
±0.5

0.1

37

25

15

32.5

/

1.2

2241

224

9.5

10

23

CXA220D410*0D0**

0.1

37

25

15

32.5

5.1

1.0

2241

224

8.5

12

23

CXA220D410*1DA**

0.15

37

25

15

32.5

/

1.2

2241

336

9.5

11

23

CXA220D415*0D0**

0.15

37

25

15

32.5

5.1

1.0

2241

336

8.5

13

23

CXA220D415*1DA**

0.22

37

30

16

32.5

/

1.2

2241

493

7.5

11.5

23

CXA220D422*0D0**

0.22

37

30

16

32.5

5.1

1.0

2241

493

6.5

13.5

23

CXA220D422*1DA**

0.33

37

34

20

32.5

/

1.2

2241

740

7.5

12

23

CXA220D433*0D0**

0.33

37

34

20

32.5

10.2

1.0

2241

740

6.5

14

23

CXA220D433*1DB**

0.47

42

40

20

37.5

/

1.2

1300

611

6.0

13

29

CXA220D447*0F0**

0.47

42

40

20

37.5

10.2

1.2

1300

611

5.0

15

29

CXA220D447*1FB**

0.56

42

44

24

37.5

/

1.2

1300

728

6.0

14

29

CXA220D456*0F0**

0.56

42

44

24

37.5

12.7

1.2

1300

728

5.0

16

29

CXA220D456*1FC**

0.68

42

44

24

37.5

/

1.2

1300

884

5.5

14

29

CXA220D468*0F0**

0.68

42

44

24

37.5

12.7

1.2

1300

884

4.5

16.5

29

CXA220D468*1FC**

0.82

42

45

30

37.5

20.3

1.2

1300

1066

4.5

17

29

CXA220D482*1FD**

1.0

42

43

42

37.5

20.3

1.2

1300

1300

4.5

19

29

CXA220D510*1FD**

1.0

57

45

30

52.5

20.3

1.2

850

850

4.5

20

33

CXA220D510*1MD**

1.2

57

45

30

52.5

20.3

1.2

850

1020

4.5

21

33

CXA220D512*1MD**

1.5

57

50

35

52.5

20.3

1.2

850

1275

4.5

22

33

CXA220D515*1MD**




























2500Vdc(725Vac)

CN
μF

W±1.0

H±1.0

T±1.0

(mm)

d
±0.05

dv/dt
V/μs

I
(A)

ESR
@100kHz
(mΩ)

Imax
100kHz@70℃
(A)

LS
(nH)

Part number

P
±0.5

b
±0.5

0.068

37

25

15

32.5

/

1.2

3230

220

10.0

10

23

CXA225D368*0D0**

0.068

37

25

15

32.5

5.1

1.0

3230

220

9.0

12

23

CXA225D368*1DA**

0.10

37

30

16

32.5

/

1.2

3230

323

10.0

11

23

CXA225D410*0D0**

0.10

37

30

16

32.5

5.1

1.0

3230

323

9.0

13

23

CXA225D410*1DA**

0.15

37

34

20

32.5

/

1.2

3230

485

9.5

12

23

CXA225D415*0D0**

0.15

37

34

20

32.5

10.2

1.0

3230

485

8.5

14

23

CXA225D415*1DB**

0.18

37

34

20

32.5

/

1.2

3230

581

9.0

13

23

CXA225D418*0D0**

0.18

37

34

20

32.5

10.2

1.0

3230

581

8.0

15

23

CXA225D418*1DB**

0.22

42

40

20

37.5

/

1.2

2100

462

5.5

13

29

CXA225D422*0F0**

0.22

42

40

20

37.5

10.2

1.2

2100

462

4.5

15

29

CXA225D422*1FB**

0.33

42

44

24

37.5

/

1.2

2100

693

5.5

13

29

CXA225D433*0F0**

0.33

42

44

24

37.5

12.7

1.2

2100

693

4.5

15.2

29

CXA225D433*1FC**

0.47

42

45

30

37.5

20.3

1.2

2100

987

4.0

16

29

CXA225D447*1FD**

0.68

42

43

42

37.5

20.3

1.2

2100

1428

4.0

16.5

29

CXA225D468*1FD**

0.68

57

45

30

52.5

20.3

1.2

1200

816

4.0

17

33

CXA225D468*1MD**

1.0

57

50

35

52.5

20.3

1.2

1200

1200

4.0

17.5

33

CXA225D510*1MD**




























3000Vdc(750Vac)

CN
μF

W±1.0

H±1.0

T±1.0

(mm)

d
±0.05

dv/dt
V/μs

I
(A)

ESR
@100kHz
(mΩ)

Imax
100kHz@70℃
(A)

LS
(nH)

Part number

P
±0.5

b
±0.5

0.047

37

25

15

32.5

/

1.2

3361

158

10.5

9

23

CXA230D347*0D0**

0.047

37

25

15

32.5

5.1

1.0

3361

158

9.5

11

23

CXA230D347*1DA**

0.068

37

30

16

32.5

/

1.2

3361

229

10.0

10

23

CXA230D368*0D0**

0.068

37

30

16

32.5

5.1

1.0

3361

229

9.0

12

23

CXA230D368*1DA**

0.1

37

34

20

32.5

/

1.2

3361

336

9.5

11

23

CXA230D410*0D0**

0.1

37

34

20

32.5

10.2

1.0

3361

336

8.5

13

23

CXA230D410*1DB**

0.15

37

34

20

32.5

/

1.2

3361

504

9.0

11.5

23

CXA230D415*0D0**

0.15

37

34

20

32.5

10.2

1.0

3361

504

8.0

13.5

23

CXA230D415*1DB**

0.22

42

40

20

37.5

/

1.2

2050

451

7.0

12

29

CXA230D422*0F0**

0.22

42

40

20

37.5

10.2

1.2

2050

451

6.0

14

29

CXA230D422*1FB**

0.33

42

45

30

37.5

20.3

1.2

2050

677

5.5

14.5

29

CXA230D433*1FD**

0.47

42

43

42

37.5

20.3

1.2

2050

964

5.0

16

29

CXA230D447*1FD**