DC-Link metallized film capacitors for energy vehicles
Look at PDF:QCB61新能源汽车用金属化膜滤波电容器.pdf
CJE has technical experience in designing and manufacturing film capacitor for decades, adopts independent intellectual property rights of national patent technology, researches and develops EV and HEV electric drive controller capacitor used for New energy vehicles to promote ideas of energy saving and environmental protection .
The capacitors' rated voltage range is 200 ~ 1200VDC, capacitance range is from 200 to 2000uF, can provide the film capacitance solution for EV/HEV electric drive controller with different levels of power between 10 kw to 160 kw.
These capacitors are made of metallized polypropylene film design , with excellent self-healing properties , can effectively avoid the over-voltage lead to product breakdown ; capacitor operating temperature range up to -40 ~ 105℃.
After adopt the original designing and manufacturing technology, the capacitors' equivalent series resistance is very low (as low as 0.1 mΩ less), the RMS current load capacity can be up to 250 A or more.
These capacitors have very small equivalent series inductance ( as low as 5nH less ) , and generally are made of laminated busbar technology built. Especially suitable for direct contact with the IGBT mounting , can be omitted conventional buffer capacitors, DC bus, which greatly simplifies the installation structure and installation procedures, but how compact controller greatly improved.
According to the needs of customers, we can integrate the "Y" type capacitor to suppress common-mode interference within capacitor.
Note: Because the battery voltage, the drive power and so different, electric drive controller space dimensions, the internal layout is also vastly different, these capacitors are generally highly customized products. Be sure to provide as much capacitance associated with the electrical characteristics, mechanical with other information, and with our R & D team to maintain close communication .
Your demand is our development power!
30kw bus bar capacitors for electric control of new energy vehicles
Representative Descriptions: QCB61 500VDC-250uF
Technical data
Reference Standard

GB/T17702-2013(IEC 61071:2007);AEC Q200D

Climatic Category

40/105/21

Operating Temperature Range

-40℃ ~ 105℃ (θhs)

Storage Temperature Range

-40℃ ~ 105℃

(UNDC) Rated Voltage

500Vdc

(CN) Rated Capacitance

250μF

Capacitance Tolerance

K:±10%

Voltage Proof

极间 Between Terminals :

1.5UN(10S, 20±5℃)

极壳之间 Between Terminals and Case :

3000Vac(10s, 50Hz,20±5℃)

Y电容极间 Between Terminals @ Clase Y:

3000Vdc(2s,20±5℃)

tanδd

2×10-4

Insulation Resistance

≥120MΩ @ 100VDC,60s,20±5℃

ESR

≤0.6mΩ @ 10kHz

Ls

≤13nH (Measure under the holes)

Max.Irms for DC

120A

Max.ripple Irms

80A

Î

2500A

Îs

6000A (non-repetitive)

Us

650V

Creepage distance

6mm

Electrical distance

6mm

Expected lifetime

参考寿命曲线 Refer to expected lifetime curve

Failure rate

50FIT

Dimension (L×w×h)

130mm×75mm×38mm

Weight

≈0.5KG
θcase:Temperature of case
ESR: The sum of all ohmic resistances occurring inside the capacitor θhs=θcase+Irms2×ESR×Rthhc
Outline Drawing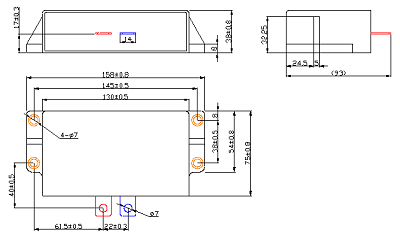 60kw bus bar capacitors for electric control of new energy vehicles
Representative Descriptions:QCB61 500VDC-750uF

echnical data
Reference Standard

GB/T17702-2013(IEC 61071:2007);AEC Q200D

Climatic Category

40/105/21

Operating Temperature Range

-40℃ ~ 105℃ (θhs)

Storage Temperature Range

-40℃ ~ 105℃

(UNDC) Rated Voltage

500Vdc

(CN) Rated Capacitance

750μF

Capacitance Tolerance

K:±10%

Voltage Proof

极间 Between Terminals :

1.5UN(10S, 20±5℃)

极壳之间 Between Terminals And Case :

3000Vac(10s, 50Hz,20±5℃)

Y电容极间 Between Terminals @Clase Y:

3000Vdc(2s,20±5℃)

tanδd

2×10-4

Insulation Resistance

≥40MΩ @ 100VDC,60s,20±5℃

ESR

≤0.4mΩ @ 10kHz

Ls

≤12nH (Measure under the holes)

Max.Irms for DC

200A

Max.ripple Irms

180A

Î

6000A

Îs

12000A (non-repetitive)

Us

650V

Creepage distance

6mm

Electrical distance

6mm

Expected lifetime

参考寿命曲线 Refer to expected lifetime curve

Failure rate

50FIT

Dimension (L×w×h)

176mm×74mm×69mm

Weight

≈1.25KG
θcase:Temperature of case
ESR: The sum of all ohmic resistances occurring inside the capacitor θhs=θcase+Irms2×ESR×Rthhc
Outline Drawing
100kw bus bar capacitors for electric control of new energy vehicles
Representative Descriptions: QCB61 800VDC-900uF
Technical data
Reference Standard

GB/T17702-2013(IEC 61071:2007);AEC Q200D

Climatic Category

40/105/21

Operating Temperature Range

-40℃ ~ 105℃ (θhs)

Storage Temperature Range

-40℃ ~ 105℃

(UNDC) Rated Voltage

800Vdc

(CN) Rated Capacitance

900μF

Capacitance Tolerance

J:±5%

Voltage Proof

极间 Between Terminals :

1.5UN(10S, 20±5℃)

极壳之间 Between Terminals And Case :

3000Vac(10s, 50Hz,20±5℃)

Y电容极间 Between Terminals @Clase Y:

3000Vdc(2s,20±5℃)

tanδd

2×10-4

Insulation Resistance

≥35MΩ @ 100VDC,60s,20±5℃

ESR

≤0.3mΩ @ 10kHz

Ls

≤15nH (Measure under the holes)

Max.Irms for DC

400A

Max.ripple Irms

380A

Î

10000A

Îs

25000A (non-repetitive)

Us

1050V

Creepage distance

10mm

Electrical distance

10mm

Expected lifetime

参考寿命曲线 Refer to expected lifetime curve

Failure rate

50FIT

Dimension (L×w×h)

339mm×97mm×67mm

Weight

≈3.75KG
θcase:Temperature of case
ESR: The sum of all ohmic resistances occurring inside the capacitor θhs=θcase+Irms2×ESR×Rthhc
Outline Drawing